Blended Learning
EnviroGuard has custom training solutions to meet every need.
Looking for a specific course?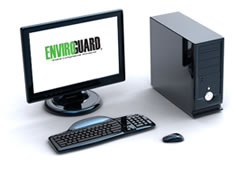 Our Custom training program allows you to choose from over 1,600 courses to develop, design, and execute a training program based on your industry, training needs, and company size. If your organization requires a specialty course, we can develop a custom training program with any of our blended learning options.
To develop your own custom training program, please contact us.

EnviroGuard's Online E-learning classes are self paced training courses available 7x24. They are designed for the business professional that doesn't have a lot of time due to professional constraints and cannot manage to attend classes in person but still want stay up-to-date with vital industry information and training.
Courses range in length from 20 to 40 minutes and are economically priced to fit any company's budget ranging between $35-$100 per class. Once you register or purchase a course, you have 90 days to complete a course before it expires and to receive your certificate of completion.
You must be a registered user of the EnviroGuard Learning Management System to register or purchase courses. If you are not already a registered user, click here.